How guns work:
Fuel is put into a small enclosed space (the piston cylinder).
The enclosed fuel is then ignited by the spark plugs.
Explosions create gas and energy that wants to rapidly expand outwards.
But since it's an enclosed space, where does that gas/energy go?
Engines are designed so that there's only one direction that energy/gas can go — by pushing the piston away from the explosion.
The force pushing the piston away is what eventually turns the axle and tires.
That "create an explosion in a tight space with only one way to escape" model is the same for firearms.
When you pull the trigger, a mechanical striker or firing pin hits the primer on the bottom/back of a round, sparking the explosion inside the casing. The explosion pushes against the back of the bullet (or the wad in a shotshell), forcing it to separate from the casing.
That energy keeps building as it continues pushing down the barrel. That's why you might see "muzzle flashes" or small flames coming out of the end of the barrel as the bullet escapes — that's the leftover gas quickly burning off now that it has room.
In fact, that's why bullet speed and barrel length are often correlated. The more time a bullet and the gas/energy behind it are kept in that one-way-escape tube, the more time the bullet has to gain speed (and stability) before the energy is dispersed in the air.
Single shot vs. semi auto vs. full auto
What happens after the explosion pushes the bullet/shot out of the barrel? There has to be some kind of reset to eject the leftover casing and make room for a new round to fire. How that happens is the difference between labels like semi-auto or full-auto.
Think about the old-school guns used back in the 1700-1800s. You've seen in movies how people would fire one shot, then take an absurd amount of time to reload the gun. Fire, manually reload, fire, manually reload, repeat.
Those are single-shot guns. The gun doesn't "do" anything else once it's fired. You have to do a physical movement with your hand to eject the old round and bring in a new one.
There are still guns like that today. The main benefit is better accuracy since there are fewer moving pieces during the explosion, which should (in theory) help keep the muzzle more stable. That's why most precision rifles are single-shot "bolt-action" guns.
In a car engine, the momentum gained from the first explosion is what helps the machine rotate around and reset itself for the next cycle.
The fundamental innovation that took us from 1800s-style guns to modern weapons is similar. Instead of letting the gas only escape in one direction (out the barrel), designers add a second escape path in the opposite direction. Newton's Third Law of Physics says every action has an equal and opposite reaction. So the same force pushing the bullet towards the front is also pushing backwards towards your body.

Semi-automatic and fully-automatic guns take advantage of that rearward force, using it to perform other mechanical actions such as physically ejecting the just-fired waste casing. So it becomes a loop that feeds and resets itself every time a bullet is fired.
Which brings us to semi-auto versus full-auto:
Semi-automatics reset themselves after firing a round, but then they sit there, waiting for you to pull the trigger again.
Full-automatics will keep cycling through the loop as long as the trigger is held down. Similar to how your car engine keeps cycling as long as you have your foot pressed down.
A well-trained person using a semi-auto gun in ideal conditions can fire up to 100 rounds per minute. In reality, you might max out at 40-50 rounds per minute (and even then you'll be limited by magazines etc.)
Full-auto guns can shoot hundreds or even thousands of rounds per minute — just like a car engine that can cycle thousands of times per minute.
More: A great animation of how an AK-47 can fire in semi-auto and full-auto.
But that's why full-auto guns are illegal basically everywhere. If you have to pull the trigger for each bullet, that theoretically makes things 'safer' than if you could just squeeze once and send a lot of bullets firing very quickly.
There are some minor exclusions for older grandfathered weapons (eg. built before 1986), but you have to pay a huge amount of money, go through years-long background checks, your home can be searched at any time without a warrant, you can't cross state lines without permission, etc. It's extraordinarily rare for a full-auto weapon to be used in a crime.
Single action vs. double action
Cocking a gun is the process of putting the hammer or striker (basically the same thing) in a spring-loaded position, so that when you pull the trigger, that hammer/striker can fly forward to hit the ammo primer and cause a spark.
So there are two mechanical actions here: spring-loading the striker, and then pulling the trigger to release it.
A weapon will be classified as single action or double action based on whether or not you can do both of those actions in one mechanical motion, or if you have to use your hand to physically cock the gun before pulling the trigger.
Classic revolvers have the hammer protruding out the back, so you can use your thumb to cock the weapon. This gif shows a single action: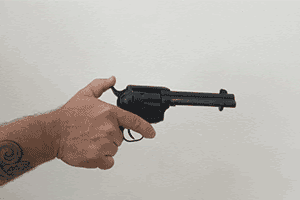 A double action firearm is one where you can both cock and release the hammer/striker with just a trigger pull. The first part of the trigger pull cocks the hammer, while the end of the pull releases it. That means you can take a gun from uncocked to cocked and fired with just one finger pull.
For most of the weapons you'll use, this only matters for the first trigger pull (taking the gun from cold to hot) because the semi-auto reset cycle will cock the trigger for your follow-up shots. That means you might have a double action gun that uses on the first pull but then becomes a SA on the following pulls.
Here's a decent youtube video if you want more info.
Assault rifles, assault weapons, and AR15s vs AK47s
We're specifically calling out assault rifles and AR-15s because there is a ton of disinformation in gun conversations (both innocent and intentional).
First, there is no real definition for an "assault weapon" — it's simply a made up term people use for guns they think are more dangerous than others. Even though two different models might use the same type of bullet that has the same type of power, speed, and capacity, weapons that look like they're from the military or an action movie often look scarier to people who don't understand. They're sometimes referred to as "black guns" because they tend to be a solid black color and made entirely of metal, instead of a more traditional wood design, and that somehow looks more dangerous.
It's true that some guns have more destructive potential than others. A small revolver, for example, is not designed for large-scale self-defense the way an AR-15 is. But people often let perceptions override logic.
"Assault rifle" does have a definition, but almost everyone misuses the label. In reality, an assault rifle must have certain criteria, such as "select fire" functionality that lets the user switch from semi-auto to full-auto mode — but those features are already very strictly controlled by law and mostly left to the military and law enforcement, so very few civilians actually have an assault rifle.
A civilian AR-15 is a specific type of semi-automatic rifle. The AR does not stand for Assault Rifle. It actually stands for ArmaLite, the company that first designed them. Over time it became the most popular rifle platform in the western world and hundreds of companies now make their own variations of the AR-15 design. You can buy an AR-15 part from one company and it will usually work with an AR-15 part from another company.
So the name AR-15 has become one of those ubiquitous names like Tylenol or Xerox, and it morphed over time to mean any rifle based on that design. Many ignorant media reports will even refer to "scary" guns as an AR-15 even though the specific model is not even in the same category.
An AK-47 is basically the Russian equivalent of the AR-15. It has some design differences (the parts are not interchangeable) but fulfills essentially the same role. The AK-47 was cheap to make and maintain, which was important in the Soviet Union. It became very popular in the former Soviet countries and has since spread on the black market to be the weapon of choice for Middle Eastern terrorists, African warlords, etc.
Suppressors and "silencers"
What movies call "silencers" are actually called suppressors — mostly because you can't make an explosion silent, you can only muffle it.
Adding a suppressor (or "can" in slang) to a firearm does not make it whisper silent. At best, a suppressor will reduce the overall noise to a level that won't medically hurt your ears and it eliminates the sonic boom created by some faster-than-sound bullets.
For example, many people's "bedside gun" uses a naturally-quieter weapon/caliber paired with a suppressor. That way if you have to fend off a home invader, you don't blow out your and your family's eardrums or have to rely on putting on earmuffs in the moment.
In yet another example of the disconnect between reality and the fear/media/legislation around firearms, suppressors are heavily regulated in the US under NFA laws because of this perception that suppressors somehow make the public less safe. This comes in part from movie tropes about stealthy assassins with whisper-quiet pewpews, even though there's no data to suggest cans correlate with violence.
Contrast that with Europe — which generally has much stricter gun laws than the US — where you can just buy a suppressor over the counter without any fuss.
That's because the only real value of a can is to make shooting safe on the ears. That's why some in the US Congress are trying to pass the Hearing Protection Act.